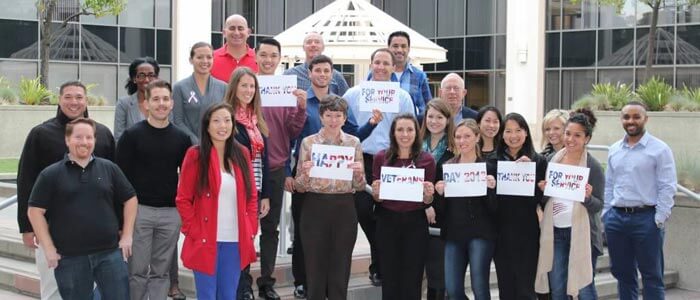 Because Veteran's Day is so significant to our country and Amerit as a company, I want to express my appreciation to all of our colleagues, clients, family, and friends who have worn the uniform of the United States military, and to their families who made the greatest sacrifice for the freedoms we enjoy today. Yesterday, we joined in saluting our nation's heroes by sporting our red white and blue and celebrating our own Amerit veterans.
Last week, we had the distinct privilege and honor to co-host with Helen Patton, grand-daughter of General George S. Patton, at two events in Southern California. At one event, we enjoyed dinner with two veterans from D-Day, which was a truly humbling experience.
During one of the events at Paramount Pictures, speaker Gene Simmons of KISS fame read a quote aloud that strongly resonated with me:
It was not a journalist who gave us 
freedom of the press; 
it was a soldier.
It was not university student demonstrators 
who gave us the freedom to protest;
it was a soldier.
The soldier saluted and respected our flag; 
the same flag covered the
soldier's coffin….
Yesterday and every day, we salute each and every one of our veterans for your service and incredible dedication to our country, and the family members who have made unimaginable sacrifices to support their loved ones in the military.
– Michael Larkins, President