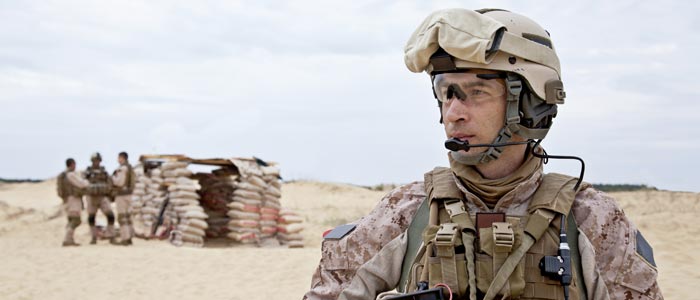 Every year, thousands of Veterans struggle upon discharge with the transition from military to civilian life for a variety of reasons. Some have a hard time trying to match their military skills with private sector employment while others continually apply to job postings without even receiving a response.
"I was unemployed and unknowingly, in the middle of a new kind of normal. From the inside of my 8 month world of not working, I was feeling lost," said Jason Smith, Veterans Employment Specialist at San Diego State University. "I would get caught up in the job search and application process and the hope of a response; the hope I can find a job."
According to government numbers, about 2.8 million Americans have served in uniform since September 11 and an estimated 200,000 are currently unemployed.
"I certainly didn't see unemployment lasting long," states Smith. "I had more interviews, but no offers. The stress was mounting, but to me, it was a blip – things were just a little out of normal. I knew I had it all together, cover letters, resumes, follow-up notes. I studied interviews, industries, careers, peers in the field, but nothing. Worse of all I didn't know it. I was depressed, over-anxious during interviews and becoming desperate."

"One day while searching through LinkedIn for opportunities, I ran across a post from John Engstrom, offering assistance to Veterans."
Smith said he was expecting his response to come from another faceless group or company that proclaims to help Veterans. After receiving a message from John Engstrom, a Brave Veteran Recruiter, asking to forward his resume, Smith gained a sense of hope.
"After all the rejection letters, I finally saw some hope. Hope that with help I could get a job," said Smith.
John Engstrom, Veterans Recruiting Specialist and a Retired USMC Mustang Officer, has a personal priority to help guide his comrades.
"I love my job," Engstrom said proudly. "I am trying to do my best to help Veterans and whenever they are preparing for their transition or seeking employment opportunities, I send them information to help them network and provide guidance on how to search for jobs."
Unfortunately though, as more Veterans return from overseas and seek to enter the civilian workforce, they are encountering some misguided assumptions from hiring managers.
"Every day I receive resumes from some phenomenal Veterans that would be great employees for any company that would hire them. However, the main problem is that there are not enough companies that truly want to hire Veterans. They need to be educated on what Veterans can bring to their companies," states Engstrom.
Veterans bring many desirable skills to today's workforce including the ability to adapt and learn new skills, strong leadership qualities, interpersonal skills, accountability and more.
After Smith connected with Engstrom, he gained back his confidence and reached out to his own network again and was able to get hired.
"Connecting with John reminded me that the community was out there and I had done the first step to dig out. I reached out to my network again and found areas to improve on my interviews and found a renewed hope in finding my dream job of helping Veterans manage their careers," states Smith.

"I am rebuilding my life again and have a great network of friends and professional contacts that are now asking me for advice and leaning on me. It feels good to give back to those who were there for me."
To find out more benefits of hiring America's heroes, visit http://www.dol.gov/vets/ahaw/TopTen.htm or contact John Engstrom at jengstrom@ameritconsulting.com