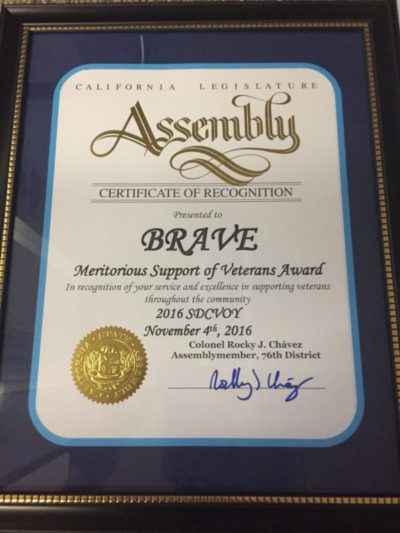 Each year, The Veterans Museum at Balboa Park sponsors the Veteran Recognition Luncheon where two Veterans and two companies are nominated for the Veteran of the Year Award. One for-profit company that supports Veterans and active duty military is selected by a panel of judges to receive the Meritorious Support of Veterans Award. Past winners of this award include Waxie Sanitary Supply, Walmart, Home Depot, Life Technologies and Qualcomm.
It is our honor to announce that BRAVE has been selected as the official recipient of the 2016 Meritorious Support of Veterans Award. BRAVE's mission has been to place great talent in great companies and assisting valued service members in transitioning from active duty into the civilian workforce successfully. BRAVE has implemented multiple programs to advocate for Veteran hiring including a Certified Military Recruiter (CMR) program, San Diego Chamber of Commerce Veterans Honor Roll, BRAVE Radio program, Operation American Dream television show and an Innovative Thought Leadership Conference. To find out more details about BRAVE's programs, please click here.
As a Service-Disabled Veteran Owned Business, BRAVE consistently strives to better our community understanding of the valuable impact Veterans have on today's workforce.
"I am humbled that our company has received the Meritorious Support of Veterans Award," Owner and two-time Purple Heart recipient, Gary Herbold states. "To receive this award, let alone be in the same category as huge corporations like Walmart and Home Depot, demonstrates the power we have to propel our Veterans further than ever thought possible."
Gary, who previously served as co-chair of the California Department of Veteran Affairs (CDVA) Board strives to make a difference in the disabled Veteran community. As experts in the staffing and consulting field, BRAVE recognizes the unique and highly desirable skill sets Veterans bring to the table.
"It feels good when you go to work and enjoy what you do while making a difference in the lives of others; that's what BRAVE is all about," Gary states.
Apart from the multiple programs BRAVE has introduced, their organization actively participates in philanthropic endeavors that have a direct impact on Veterans including Habitat for Humanity, San Diego Veterans Parade and East Bay Stand Down. In fact, today, BRAVE is sponsoring a fly-over event for the Mt. Soledad Veterans Day ceremony that will honor U.S.M.C. Veteran, Captain Ted Williams.